Order Forms for the Memory Book &/Or individual Photos are here & Will Also Be at The Event »

We're getting some great looking pictures in... Check out "Then & Now" »
ATTIRE FOR EVENTS

Friday evening reception: Attire: Casual
Saturday evening : Attire: Business Casual (slacks or khakis, open collar shirt)
Class pride: Please add Varsity basketball after league champs.

SUNDAY LUNCHEON 11:00 to 3:00

Peggy Einzig has offered to host the luncheon in her condo's courtyard located at 1001 Laurel St. in San Carlos. , and just have it be "BYOL". This eliminates the need to collect a fee, procure more foods, figure out the logistics for delivery, storage, etc.. We can provide ice for drinks and cookies and snacks left over from the night before. This way we have a relatively quiet, private venue and everyone gets exactly what they want for lunch!! There had been some talk about holding it in a nearby restaurant, but that would most likely be noisy and crowded!

Gayle: I contacted the hotel Sofitel and inquired about guests ordering a box lunch on Saturday to be picked up Sunday morning. They do provide this service. I thought this might be an easy answer for out-of-towners staying at the Sofitel who are planning to come to the lunch. The hotel may have some breakfast options that will work for take out as well, e.g. quiche, fruit, muffins. I am waiting for an email from the Sofitel with the menu and picture of the box lunch.

JULY 30TH MEETING

The committee discussed the latest in outreach, signups, logistics and delegated some responsibilities... Name badges, Photographer & Official Photos, Memory Book, Video. The details can be seen here »

GOLF VENUE

Looks like we have secured Poplar Creek Golf Course Friday, September 30.

Hey 1966 San Carlos HS Reunion Golf Tournament Fellow 1966 SCHS Grads,
If you're a golfer, a hacker, or an adventurous sporting sort, why not add some friendly
competition to our 50th HS Reunion weekend by playing in our golf tournament on Friday September 30?

We're set to play at Poplar Creek Golf Course at Coyote Point in San Mateo.  This course used to be
called San Mateo Muni, on which many of us learned to play in the 1960's.  It was reconstructed ten
years ago, including a new clubhouse/grill.

Particulars about the tournament are:
Location:  Poplar Creek Golf Course
Date:  Friday, September 30, 2016
Invitees:  All SCHS Reunion attendees, including guests
Tee Times:  Starting at 11:00 AM
Cost:  $105.00 per player includes green fee, tee package (balls, tees),
cart, practice balls, box lunch, and prize fund
Rental Clubs (if needed):  $30.00 per set
Tournament Format:  Team scramble (or other generously handicapped system,
depending on total number of players)
Sign-up Deadline:  September 9, 2016

Course personnel will provide tournament organization and check-in coordination if we have at least 16 players.  We have reserved tee times for up to 40 players and can add more.  Sign-up will be through our reunion golf committee, including payment of the $105.00 cost.  Payment for rental clubs can be made on the date of the tournament, but we will need to know how many are needed ahead of time so the course can set them aside for us.  One limitation is that only paying golfers will be allowed on the course.  An exception is that we can have non-paying volunteers stationed at one or more of the four par three holes.

Whether you're a decent golfer or a hacker, and want to have more fun on our reunion weekend, come on and sign up to play.  We're going to make sure the competition will be low key, although there might be a few side bets made. () And, we'll be done in plenty of time before the Friday night reception.

Sign up now or send me an e-mail if you're interested in playing or volunteering on the course.  Think about how much reminiscing you can do in a few fun hours with old friends you haven't seen in decades.

Charlie Bunker
3456 Vista De Madera
Lincoln, CA 95648
(916) 826-3189
charlie_bunker@yahoo.com 

APRIL MEETING

Discussions:
Attire for Friday Eve Reception: Informal
Attire for Saturday Dinner: Business Casual ( i.e., open collar, no jeans) ... more guidelines »
Saturday Eve Entertainment: Music of 60s, 70s maybe by Classmates of '66 Jam
...Instead of DJ or Local Band... was suggested
MISSING CLASSMATES
In our ongoing search for our missing classmates It has been suggested to us by a SCHS class of 65 alum that the search will be more productive if we have middle names or at least middle initials. That person suggested that we use our SCHS graduation program to obtain middle names. I no longer have mine. If one of you happens to have your graduation program, I would appreciate it if you would please either scan it and email it to me or copy it and mail it to me. [Email me for my street Address] Also, if you have contact information or know of the past where-abouts of former classmates, I would appreciate having that as well. Even if your information is dated, it may be helpful as we conduct our search. Thanks, Steve Forsberg . Contact me at: rosevillesteve@gmail.com.


CASUAL LUNCHEON
October 2nd. -- 11 am to 3pm
A Lunch in the courtyard is scheduled for Sunday, October 2. Classmate Peggy Einzig has made arrangements for us at her condo complex, located at 1001 Laurel St. in San Carlos. Her place can hold up to 100 people comfortably (maybe a few more) and has available indoor and outdoor space. Peggy has also agreed to chair our "Sunday Lunch" committee. If you would like to give Peggy a hand in planning this event, please contact her directly at pmetok@gmail.com. The date will be Sunday, October 2nd from 11 am until 3 pm.

DECORATIONS

Sandra McKee is looking into decorations for our reunion dinner dance. Sandra lives in Redwood City and would welcome others of you to join her in this effort. If you have ideas for decorations for our event or would be willing to help in planning this aspect of the reunion, please contact Sandra directly at sandrakmckee@hotmail.com. FYI, Kim Martin, who chaired of the Class of 65 decorations committee, has offered to share posters and other decorations that were used by her class for their 50th reunion.
"MIA"

Our biggest challenge at this point in planning our 50th reunion is contacting former classmates. We have about 150 of you on this distribution list and we know that at least 25 of our former classmates are deceased. That leaves around 325 classmates who have "disappeared." An effort is underway to find those missing classmates. Rudy Shokal, with help from Chaz Hawley, has compiled an extensive list of these "MIAs" and about ten of us have volunteered to track them down. We could use more help in this endeavor. If you are willing to lend a hand tracking down missing classmates, please contact either Rudy at runb4wind@gmail.com or me at rosevillesteve@gmail.com.
MAILING ADDRESSES

We obviously have email addresses for all of you. For many of you however, we don't have your mailing addresses and phone numbers. As we are planning on doing mailings, it will be helpful if each of you would provide that information. Please check your name on this download database. If your address and phone number are not listed, please forward that information to Katherine McQuillin. Katherine is John Elliott's para legal and is maintaining our class database.


Do you know any other classmates? We were a class of 500!!
PLEASE HELP US get their contact information!!
Here's a list of 390+ CLASSMATES we still need up-to-date contact info»
~~~~~~~~~~~~~~~~~~~~~~~~~~~~~~~~~~~~~~~~~~~~~~~~~~
REGISTER NOW! Get forms below ... (Right-Click forms to download)
Or use link to get PDF's »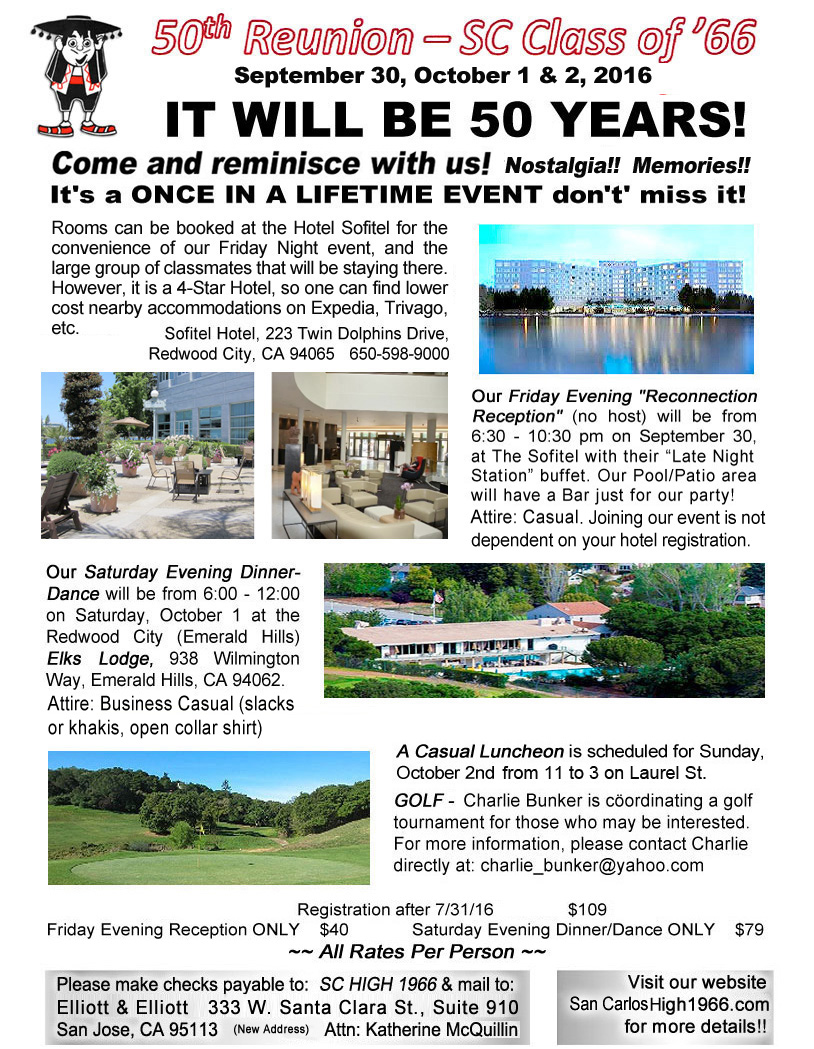 In trying to simplify this process we decided to make the questionaires optional!
We need to get 195 attendees in order to achieve goals & break even
We're most of the way there but we need to get all the procrastinators!!



Decide on Friday, Saturday or hopefully BOTH...
...And the number attending...
...Then figure the total...


~ Please make checks payable to SC HIGH 1966 ~
PLEASE INCLUDE MAIDEN NAME SOMEWHERE!!!
Then simply find an envelop, some stamps,
& mail everything to the NEW ADDRESS:
Elliott & Elliott
333 W. Santa Clara St., Suite 910
San Jose, CA 95113
Attn: Katherine McQuillin

~~~~~~~~~~~~~~~~~~~~~~~~~~~~~~~~~~~~~~~~~~~~~~~~~~~~~~~~~~~~~~~~~~

These forms below are optional!
(Right-Click forms to download)
Go to PDF folder » [& right-click: Reg-Page 1.pdf Reg Page 2.pdf]



(Right-Click forms to download)
Contact us if you want these forms mailed or emailed to you!!




Contact us if you want these forms mailed or emailed to you!!